CodeMash 2020 Design
I think its easy to put too much pressure what blog posts should be about (hence my 6 month hiatus)… so I'm going to just start talking about what I do on a regular basis. And just a few weeks ago was the conference who's designs I've been working on for months. So why not a recap about what made and how it went?
While the conference, CodeMash, isn't until January, planning starts in the spring. The board of organizers, plus a few "chosen" volunteers have a post mortem while simultaneously beginning to plan for the next year. That meeting is usually around June. While there's been times we've already had the theme for the upcoming year chosen and developed, this past year was not the case and we used the meeting to brainstorm.
I had a few themes concepted and ready to present.
(I'm not going to reveal the unchosen theme in case I decide to recycle the concept in an upcoming year)
It rarely takes long to choose a favorite, and then it's time to design a few different variations of proportions and color. At minimum, there's a stacked version, a longer horizontal version, a plain gear head, and and possibly a color variation. I always want to make sure there's an option that looks good on both black and white. The dark application is most often used by the stage crew. And while I'm solidifying this, I'm also taking notes of colors and making a branding guide to be shared with any vendors or sponsored who would like to theme their booths along with us.
Choosing a font is a little tricky. I wanted something that fit that theme, but wasn't too taboo. Being it was only July, I didn't realize that every single New Years Eve party was going to be themed 20's deco. But luckily I chose a more modern font, that I thought most people would have access to (so sponsors can use the theme in their booths and anyone on staff could make signs if needed). I also have to make sure we have legal rights to use the font in a commercial environment as well as on print materials and apparel.
Next comes the KidzMash Logo conversion. In general, its a pretty quick process for the colored logo. What may surprise you is that the single color shirt option takes the longest. I try to provide the most simplified file to our apparel printer. I know that production companies don't always have a designer on site (I also have control issues), so I make it truly a single color (its not black and white… its black and negative space)- all of the white gets subtracted and all the shapes get merged, font is also outlined and subtracted, etc.
Then I start working on the badges. There's so much that goes in to a badge design, that it really takes the whole team's attention to make sure I don't forget anything. There's six different versions (two different levels of sponsor badges) and they only have room for most important information. Also, since these are worn around the necks of over 2,000 people for nearly a week, if mistakes are made, they are surely to be noticed by at least someone.
One thing to consider is design vs. user experience that is why the schedule gets flipped upside down. The badge is worn on a lanyard and its easiest to just "flip it up", so it appears upside down regularly. With the option for some sponsorships levels to get their logo printed on it, I try to get the design done as soon as possible but push the print date as late as possible.( This is why I drink.) And we usually try to have everything printed by Christmas so we can "Drink and be Merry" to our full potential during the holidays.
There are some tasks that volunteers can do, or have done in the past, but depending on their personal schedule during the holidays, I get brought in- and I don't mind! I know that its probably going to take me half the time because:
 I design all the time and most of the volunteers just hobbyists
I created the theme, so I'm already prepared to whip something up.
All of the fonts and files are in my "recents" and easy to find.
So this year I got to do the signage, too!
The hardest part of making the signs, is making the sponsorship logos to look as good as possible. I always try to make sure they are printed full color on white background with padding, so that each is clear and appears the same size.
Other things I've helped with are design files for the stage company, a Powerpoint presentation for the announcements that gets played during the week, and designing sponsored stickers (thanks StickerMule, you're the best!).
I also wrote the script and helped manage production for the video of the announcements that was played during the conference (I don't love editing or shooting, so I always outsource that).
I know I'm "just a designer", but I love the tech scene. Because of CodeMash, I still have my twitter. I'm not even joking. Almost all of my followers are techies/devs and they're some of the nicest people I know. Every year I leave there so grateful for the opportunities to help with such an amazing conference that encourages people to grow personally and in their career. The fellowship I get during the weeks fills me with a hope that I can find a  design community can be this support to me.
It's easy to lose yourself working from home. You forget what your potential can be, you can forget the benefits of personal relationships and production challenges. Every year I enter the holidays feeling a little drained, but when I get to CodeMash in early January and I get to see my work on the "big screen", or basically turned into a giant freakin stage, it reminds me why I love what I do. I love the team work, the people, and experiences its provided.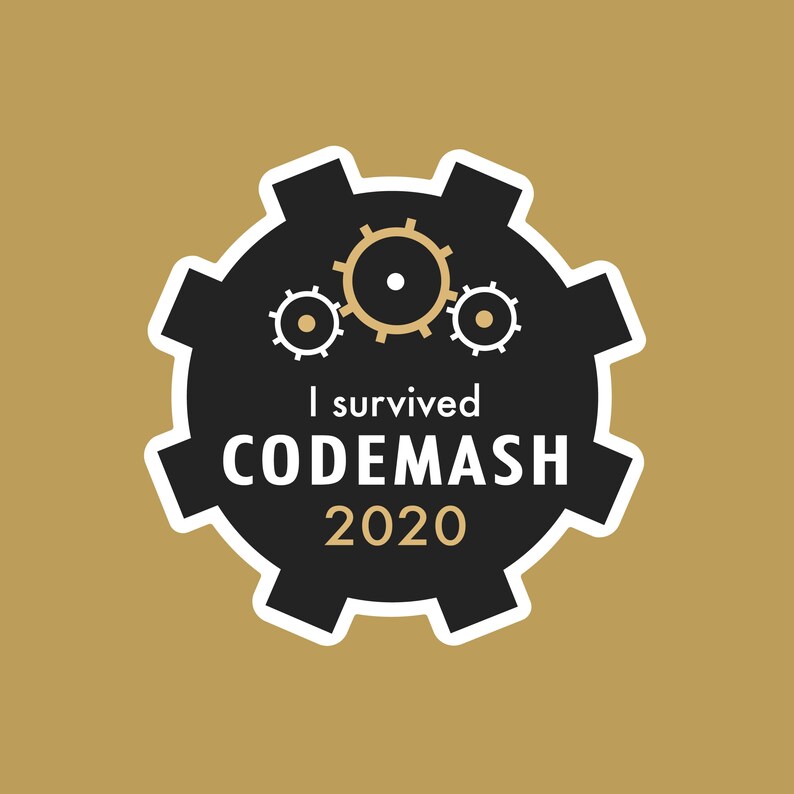 If you were at CodeMash, be sure to check out the sticker I designed gloating the fact we "survived"!